Friday, 11 June 2021 13:53
Written by

Lauren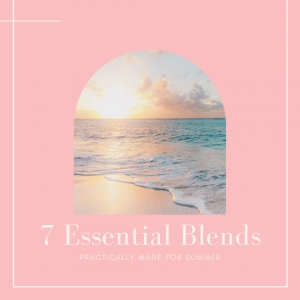 Hello summer!
Summer is hands down my favourite season, I love everything about it and yes, that even includes the humidity! One of the most vivid ways summer speaks to us is through the iconic scents of the season. What does summer smell like to you? Freshly cut grass? Fragrant flowers? Salty sea breeze? I don't know about you, but I find myself craving it all year round- I can't get enough of summery scents! 
We might not get as much sun as we'd like, so I'm going to share 7 of my favourite summer essential oil blends with you- to bring those feel-good vibes indoors! If you use them regularly over summer, once the season is a distant memory, you can blend them up, and with just a whiff they'll take you back in an instant.
Also, not only do they smell heavenly, but they support your health and wellness- it's a no brainer! 
On the Beach

Mimicking the scent of the beach is no small feat, yet it can be done with essential oils. By diffusing a mix of oils whose scents remind you of carefree summer days, you can trigger pleasant memories that instantly boost your mood by providing some much-needed relaxation.

I use:

3 drops of Patchouli

3 drops of Orange

3 drops of Ylang Ylang

 
Ocean Mist

My Ocean Mist blend will open your mind and your heart with its peaceful and inspiring aroma. Reminiscent of fresh, cool sea air. 

 4 drops of Rosemary

 2 drops of Lavender

 2 drops of Lemongrass

 2 drops of Spearmint 
Summer Sunshine

For those days when you can't make it outside, bring the summer sunshine into your home with my summer sunshine blend!

Try:

3 drops of Orange

2 drops of Ginger

2 drops of Ylang Ylang
 

Hawaiian Breeze

Escape with this exotic essential oil aroma. Turn on this oil blend and enjoy your Hawaiian escape!

 

 2 drops of Lavender

 2 drops of Geranium

 2 drops of Bergamot

 2 drops of Lemon
Summer Campfire

My summer campfire essential blend helps you feel like you're enjoying a crackling fire by the salty seaside.

 

Blend the below:

3 drops of Cedarwood

3 drops of Patchouli

1 drop of Orange
Breath of Fresh Air 

Ahhh. Breathe deep satisfaction in as you light up the Breath of Fresh Air smell. A clean, fresh smell that will make you feel like you're walking through a beautiful open field on a lovely summers day. Success!

 

 2 drops of Lavender

 2 drops of Peppermint

 2 drops of Lemon 
Full Bloom

FLOWER POWER! This floral scent is bound to make you think about a fresh garden. Floral, but not overbearing, the Full Bloom blend will make you happier in an instant.

 

4 drops of Lavender

2 drops of Geranium

1 drop of Jasmin 

 

 
The question is, which summer blend are you going to try first!? Don't forget, you can also incorporate these blends into your beauty routine, essential oils are what multi-tasking dreams are made of. Let me know which is your favourite summer scent in the comments below. 
Oh, and make sure you keep your eyes peeled for our new range of essential oils coming soon! 
 Let's be social!
Leave a comment
Make sure you enter all the required information, indicated by an asterisk (*). HTML code is not allowed.