TRAVEL COMES VERY NATURALLY TO YOU... I'D LOVE TO HEAR MORE ABOUT THAT


I guess as I was able to experience so much growing up it then felt very natural to continue exploring the world. I've always felt very comfortable in new places and meeting new people. 
Working in the wellbeing industry there are lots of opportunities to travel, work seasonally and in different countries. Although it doesn't come to you on a plate, you have to put time and effort into a place to meet people, make connections, and feel the rhythm of how that place works. This however is something I have always loved doing and has led me to opportunities in some incredible places such as Brazil, Israel, and Sri Lanka. 
This year though I have slowed down a lot which I am really enjoying, and as well as being in Portugal for retreats I will be mostly based in south-west England where I can focus on my work and clients there. 
HOW CAN WE EMBRACE MASSAGE MORE TO HELP TAKE CARE OF OURSELVES?
I would say go for massage as much as your body needs. If you are working through something such as tight muscles, stress, injury, recovery... I would say once per week and for maintenance once per month. We only ever have one body and so it should be a priority that you take good care of it. I love using the Amphora Aromatics Massage Oils and have done so for many years. The pure essential oils carry a genuine therapeutic benefit that can be felt, and the texture allows for different techniques and mobilisations; so reliable as a go to massage oil range. My ultimate favourite is the Relaxing oil with lavender, and I also often use the Muscle & Joint oil which has warming black pepper, and eucalyptus to help clear the airways.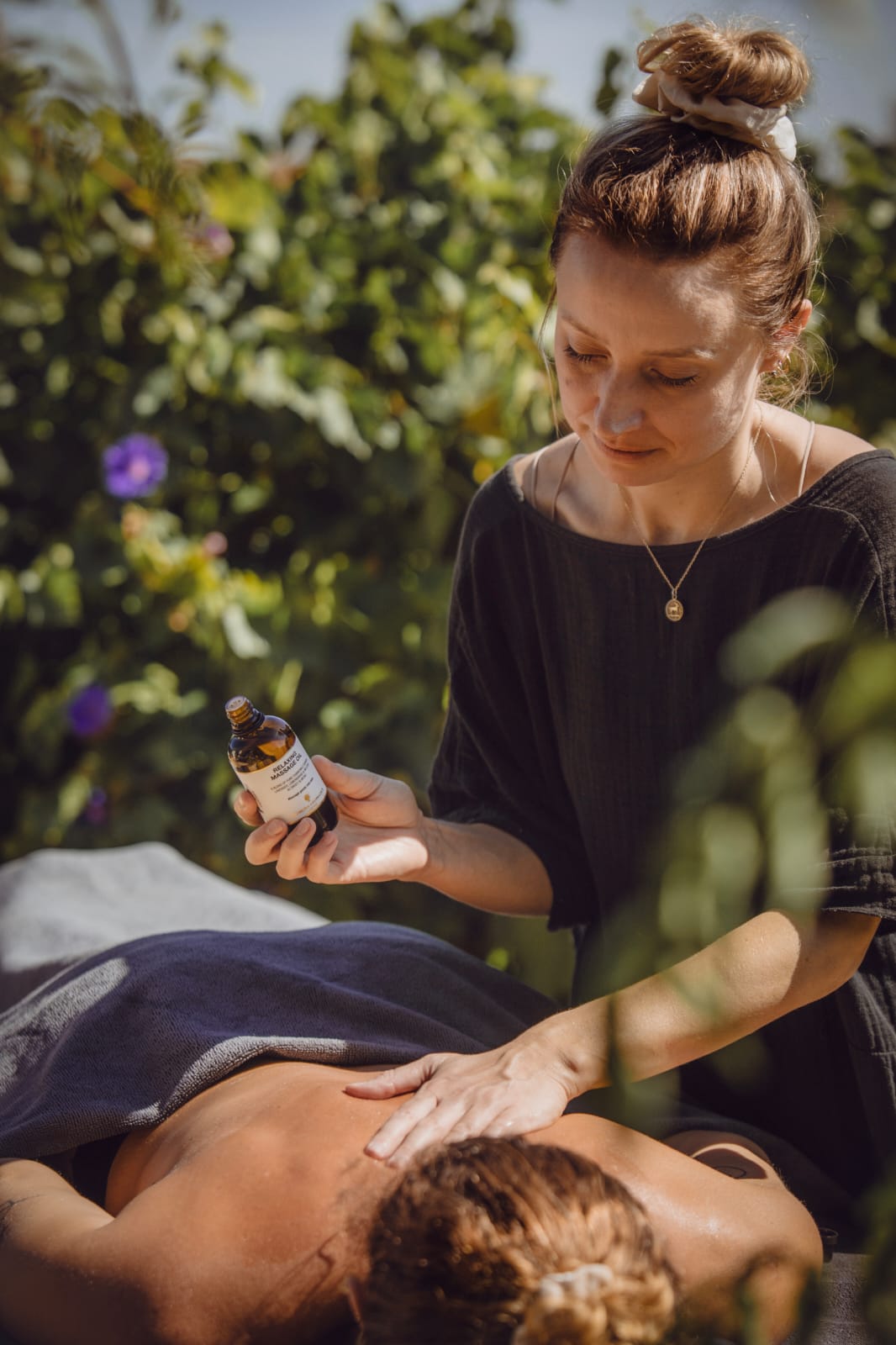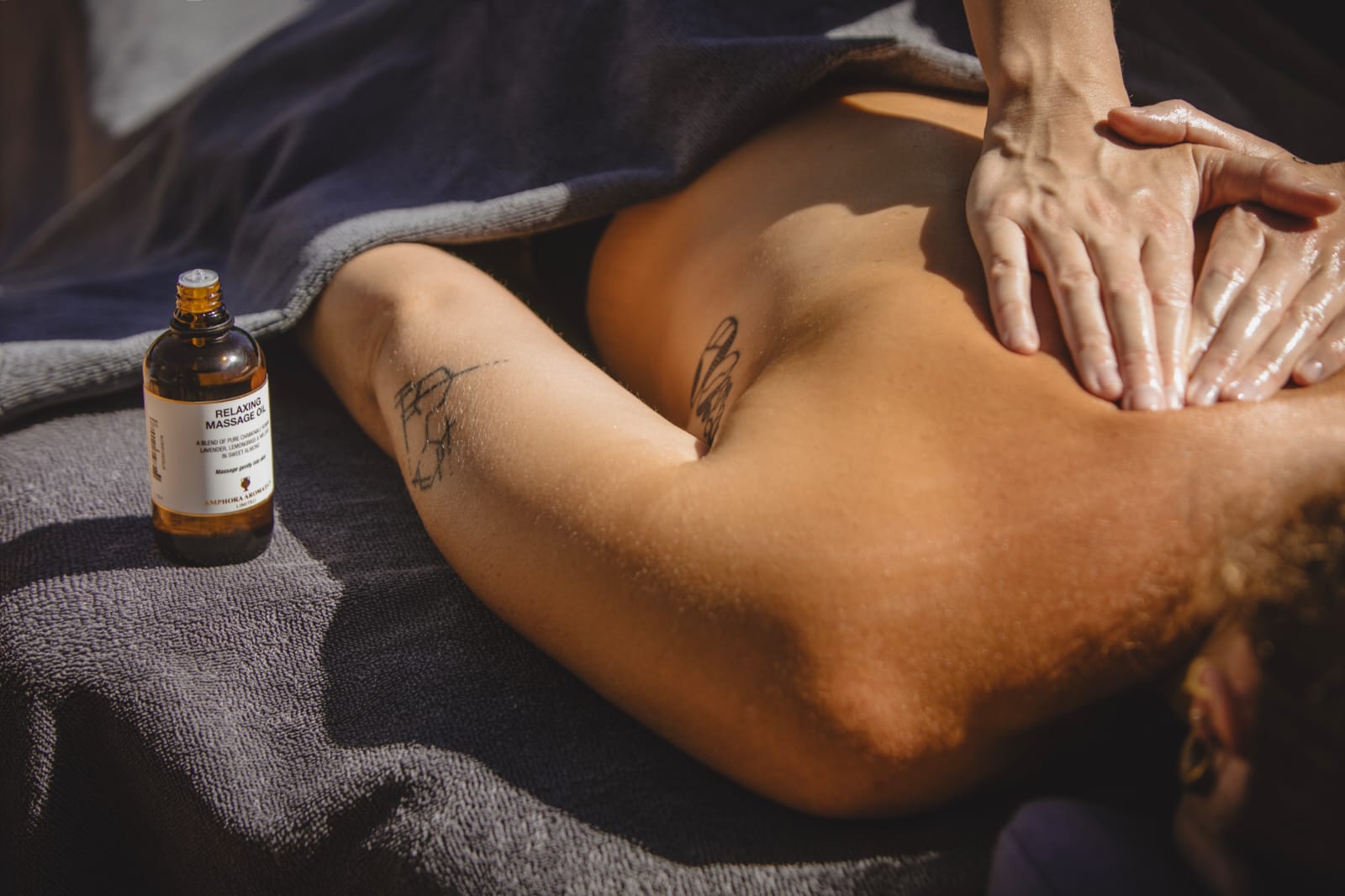 WHAT KIND OF CLIENTS DO YOU WORK WITH?

People generally come to me when they feel that there is something out of balance, they have tried solutions from western medicine or other areas but feel they are getting nowhere, or they want advice and support on how to feel better and healthier. For example, physical problems, pains, injuries, unexplained physical symptoms, or psychological and emotional issues such as stress, overwhelm, burnout, anxiety, minor depression. (It is good to bear in mind that the physical and the mental issues are linked, and this is something that is always considered in my sessions! – It's extremely important to look at the whole person when considering health, and not just one aspect).
I have many clients that want to just be immersed in a wellbeing or transformative experience, so will book onto one of my retreats or join my membership programme. Also clients who are feeling 'stuck' or at a dead end in a certain area of their life so will enrol on my mentorship programme or also join the membership.
I also work with pregnant and postnatal women supporting them through the different stages of pregnancy, birth, and postpartum with a variety of methods such as massage, bodywork, yoga & movement, and talking therapies.
A lot of my ongoing clients are from Bristol and the Somerset area where I spend some of the year, as well as people that are based in Portugal and elsewhere. Most of my clients I have worked with for many years which is lovely as we build a solid and trusting relationship together.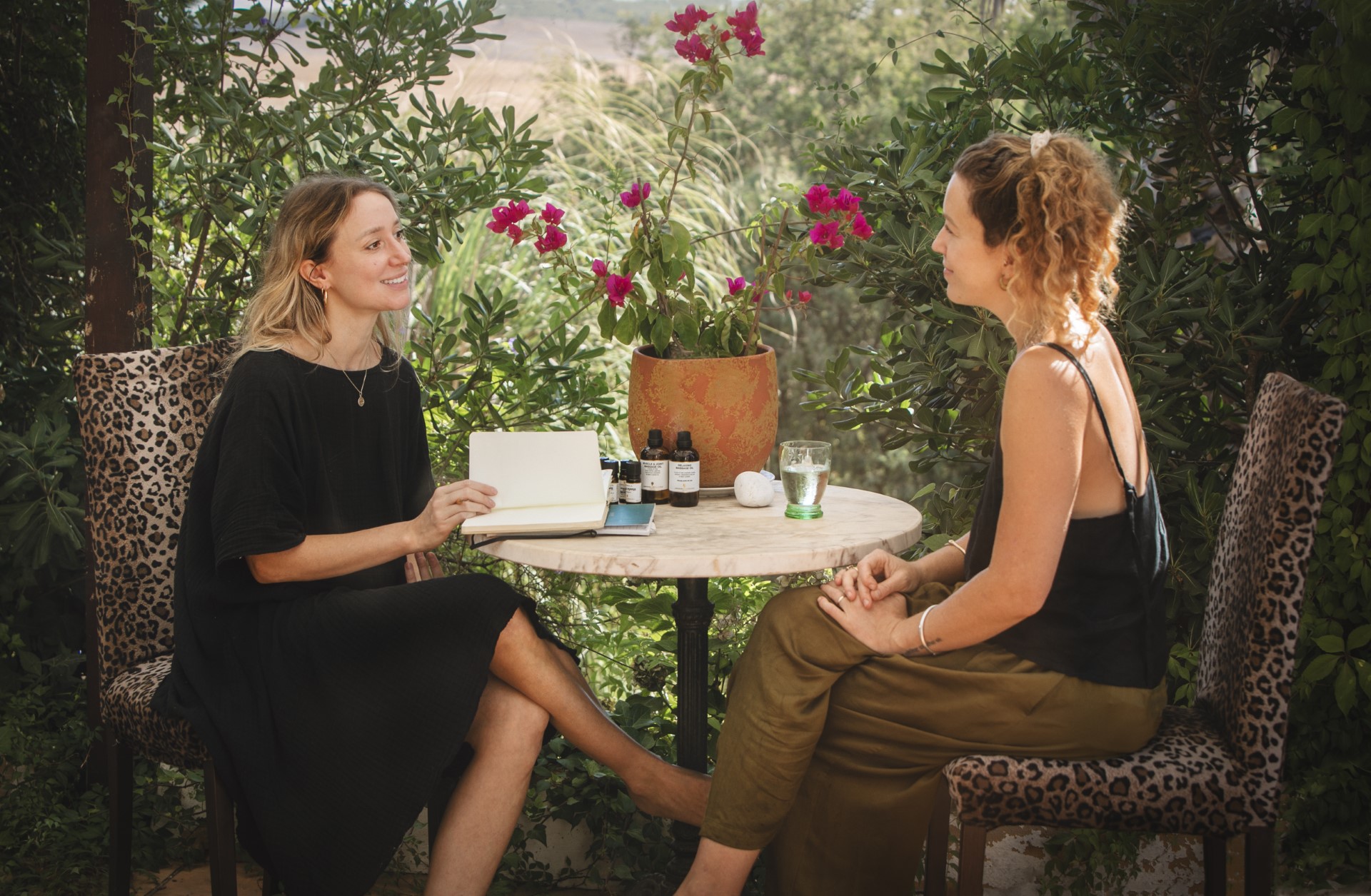 HOW DO YOU WORK WITH CLIENTS?
There are different ways in which I work with clients as everyone and every need is individual and so this is always taken into consideration. However, the goal and the process is always the same and this is to feel better, healthier, happier and in control of their own health and wellbeing.
When someone starts working with me we begin with a thorough consultation so I have an idea of their lifestyle and what has led them to where they are, what they are looking for, what I can offer to support them and how we can work together. A treatment plan will then be devised which will consist of either individual sessions, a course of sessions, or sessions that continue throughout the year.
I offer a wellbeing membership programme and a mentorship programme for clients to enrol on who are looking for a deeper level of support and guidance and want to work with me over a longer period, as this is when the results really start to happen. When it comes to our health and wellbeing consistency and commitment are what leads to change.
Just some things that will be covered in the membership programme include: how to connect to our bodies and our intuition; myofascial release and how to self-soothe; managing stress & anxiety; how to rest and create better sleep patterns; how to reset the nervous system and properly relax; how to reprogramme the unconscious mind and let go of old and limiting patterns, behaviours and beliefs; nutrition, diet and herbs; how to take your health and healing into your own hands and live a healthier life, naturally. – It really is a one-stop-shop for health and healing!
I also run in-person wellbeing retreats, and I have a Facebook community group where I often offer free classes and workshops, information, advice, tools, and techniques.
In all of the work that I do I aim to provide the information, tools, techniques, guidance and support to empower people to improve their own wellbeing and live a more fulfilling life. To take their health into their own hands, and to live more healthily all through natural methods.
I provide the space where people can take time out, connect back to themselves, and feel more whole. I truly believe that complete wellbeing and a happy life starts with you!
If you would like to work with me please reach out via email This email address is being protected from spambots. You need JavaScript enabled to view it., or on my Instagram: lauren_garner__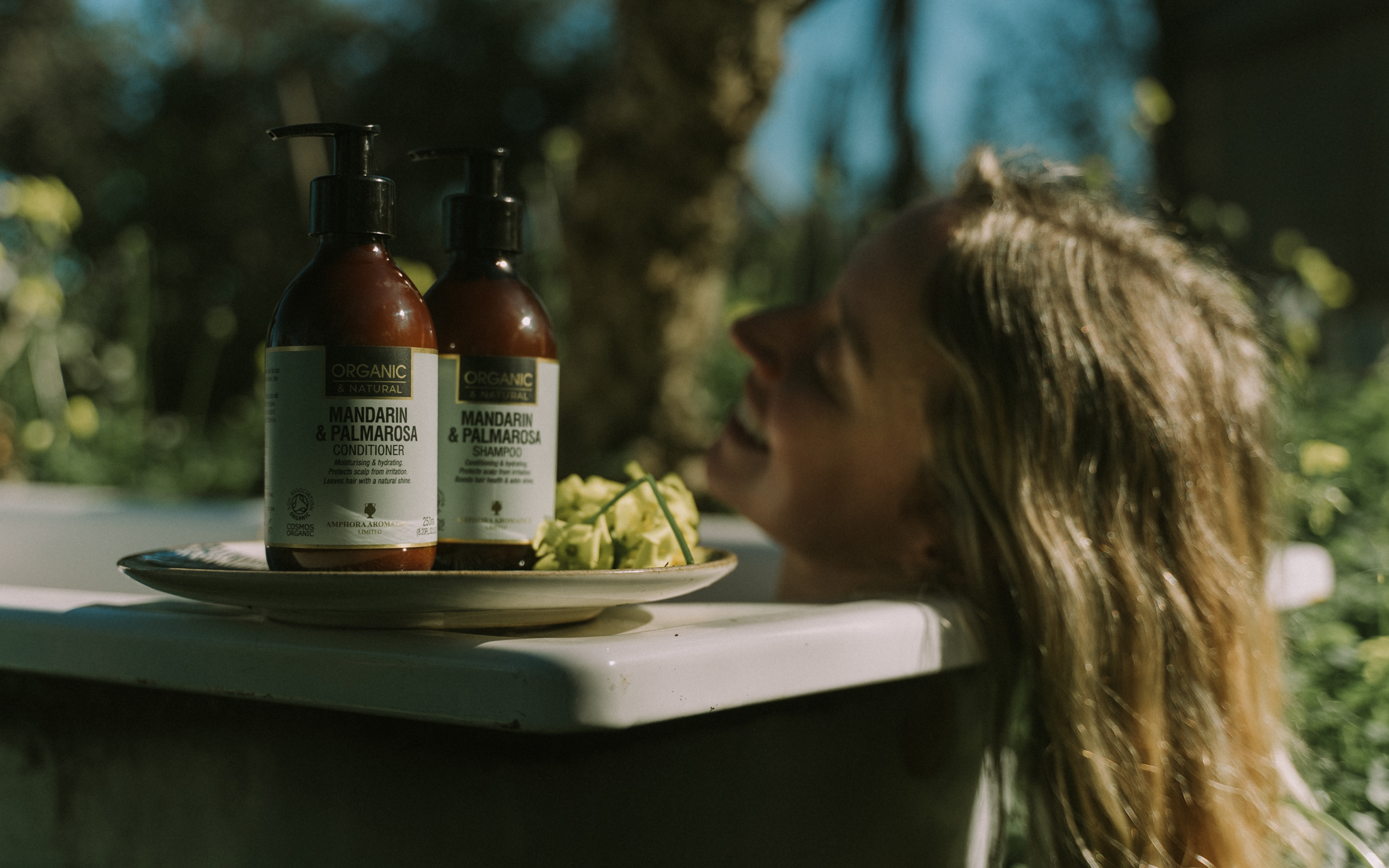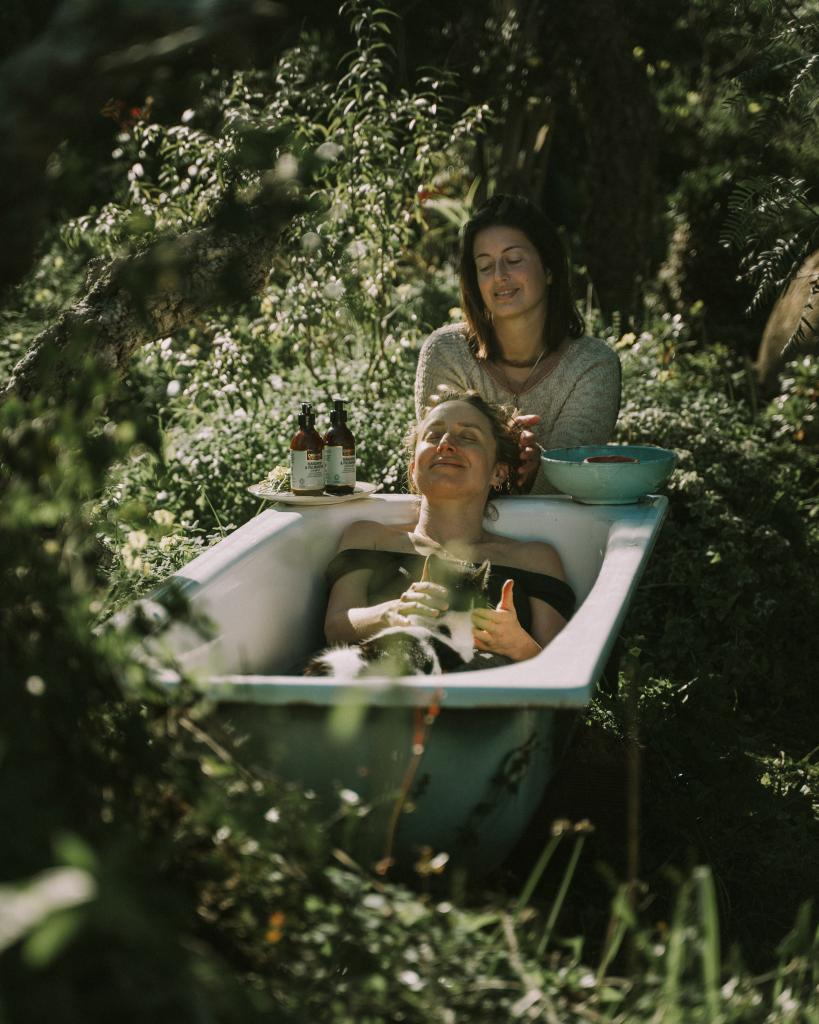 YOU RADIATE WITH HEALTH, WHAT'S YOUR SECRET?


Aww thankyou! For me, my health is a top priority and I put effort in to feeling good on a daily basis. I eat well including lots of natural fresh food and organic when I can. I make sure I get enough sleep and rest. I try to eradicate stress from my life where possible, and as well as working I spend time doing the things I love and that bring me joy. 
I think knowing and listening to your own body is hugely important! Everyone is different and knowing what is good for you is the key. The deeper I get to know myself and what's good for me, the healthier I feel.  
My advice is always to do what feels good for you and your own body! When you know how to tune into yourself, you know what this is. Like if you fancy a couple of glasses of wine one evening then go for it if it feels good. Or if you're feeling really tired then take some rest instead of powering through. Your body will always tell you what you need or don't need. Do what you 'feel' you should do, not what you 'think' you should do.
It's also important not to worry and stress about what you are or aren't doing. If it makes you feel good then go with that! Life is for living and enjoying, and if we're able to keep a good balance and stay truly healthy and happy then there's no problem. Being stressed about something is actually one of the worst things for you. Where can you take the pressure off and be a bit kinder to yourself? 
I cannot emphasise enough the importance of being outside and connected to nature for our health and wellbeing. 
Also staying physically engaged in the world around us and being present in the everyday. I know it's harder now adays with so much stuff online, and don't get me wrong I think there is tremendous value and benefit in being online (a lot of my work is done remotely), but also being rooted in the real world and simply living and being is where it's at! 
Again, it's about finding a healthy balance!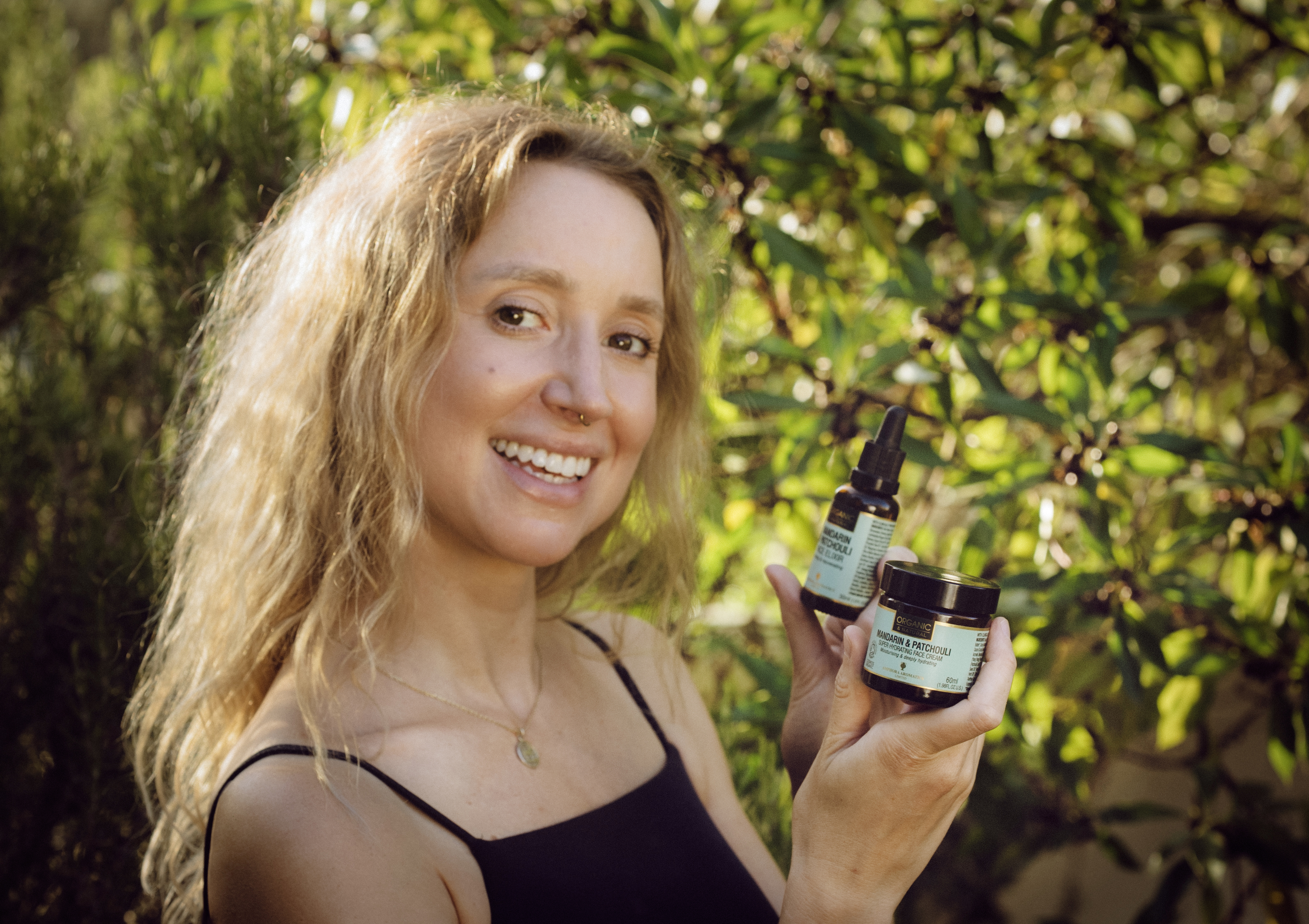 AMPHORA AROMATICS RECENTLY LAUNCHED AN ORGANIC & NATURAL RANGE OF PRODUCTS? WHAT DREW YOU TO THIS RANGE... AND HOW WAS YOUR EXPERIENCE OF USING THE PRODUCTS?
Ahh I absolutely love this range! I really can't get enough of it! 
I think the thing that first drew me to it was that it's nearly 100% organic and natural ingredients as this is something that's really important to me when it comes to products. It's useful to know what you're putting onto your skin and into your body, and to avoid harmful and unnecessary chemicals where possible! By using this range I know that I'm only putting goodness in. 
The smell is insanely yummy, and I always feel so good during and after using them… it feels like such a treat! But something you can do everyday!
The quality of the products (as with all Amphora Aromatics) is really high, and the packaging makes them feel luxurious.
I also love to support independent local brands, and as it's all produced just around the corner from where I grew up it's a delight to use them.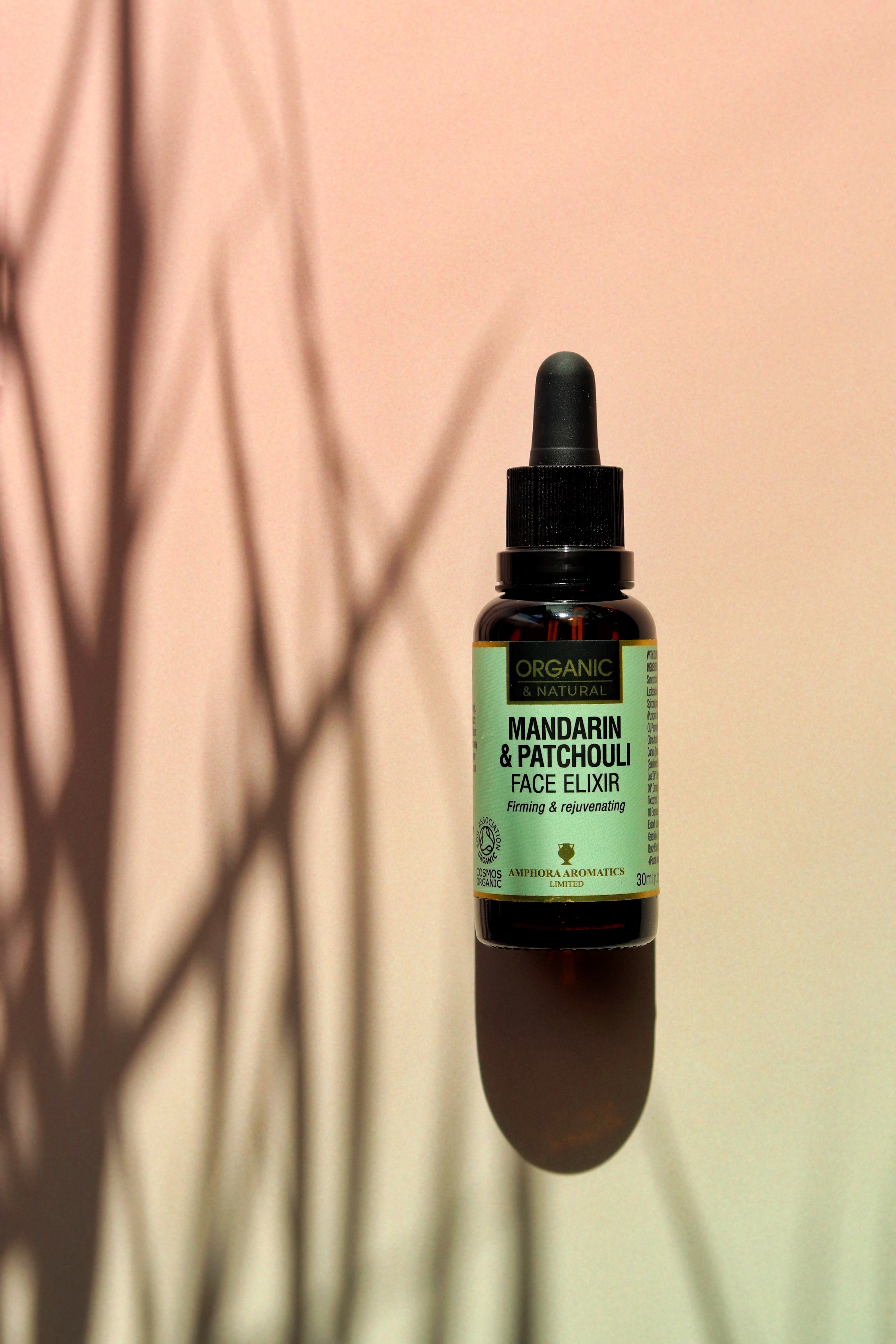 @shikimikisoul 
TELL ME ABOUT THE RETREATS THAT YOU DO?

I hold a number of retreats each year, mainly now in Portugal, but also some retreats in the UK, for instance the Reset Retreat I held earlier in the year in the beautiful village of Pensford near Bristol. 
Each retreat tends to have a different theme but they all incorporate the magic of nature and honour the seasons throughout the year. We focus on connecting to our physical self, our emotional self and our spiritual self (whatever that is for us), in a safe welcoming environment. We do this through a variety of different things which can include embodied movement and yoga, somatics, meditation, breathwork, self-soothe aromatherapy sessions, and connecting to the area we are in by spending time outside exploring. Depending on the particular retreat it may also include different workshops on nutrition, luxury treatments, surf sessions, rewilding activities, or other things such as kayaking or paddleboarding. 
For me the venue is important so this is always chosen to suit the retreat and make it really special. Nutrition is taken seriously so we have an in-house chef serving delicious, healthy, locally sourced food. 
All retreats are open to people of all levels and backgrounds, and no previous experience in yoga, meditation or anything else is needed. Just come as you are!
The retreats are a wonderful opportunity to take a break and be immersed in something different which will greatly be supporting your wellbeing. It's also a lovely way to meet other like minded people, and learn tools and practices that will become part of your daily life at home.
WHAT ARE YOUR NEXT RETREATS... AND HOW CAN PEOPLE BOOK?
I have two Retreats coming up in my Portugal Retreat Series… Just a few places left for the October Retreat, and I am now open for bookings for the April 2024 Retreat.  


JOY OF BEING – 5th to 10th October 2023 – Cascais, near Lisbon
-       For lovers of the ocean, nature and space, we will gather together and remember the wonder we feel in simply 'being' and enjoying life.
-       As well as all the Yoga and Wellbeing sessions there will be an opportunity to book surf lessons with our experienced coach. 
-       5 days & nights in private luxury accommodation with a pool, beautiful views and delicious meals prepared by our in-house chef. The days will be filled with yoga, movement, meditation, breathwork, luxury treatments and free time to rest, relax, head to the beach or explore the local area. 
BACK TO THE ROOTS – 18th – 23rd April 2024 – Tabua, near Porto


-       This will be a retreat connecting us back to mother nature and the essence of who we are as we welcome in the new season of Spring and Summer. 
-       Think super grounding practices, rewilding activities, and nourishing seasonal food in an incredible venue in the middle of nature, but with all the luxury.
-       This is for you if you want to completely step out of your daily life into the most enchanting retreat sanctuary in the hills of Portugal.
-       Complete escapism in a luxury off-grid retreat.
If you are interested in any of my upcoming Retreats feel free to email me on This email address is being protected from spambots. You need JavaScript enabled to view it. or send me a message on my Instagram: lauren_garner__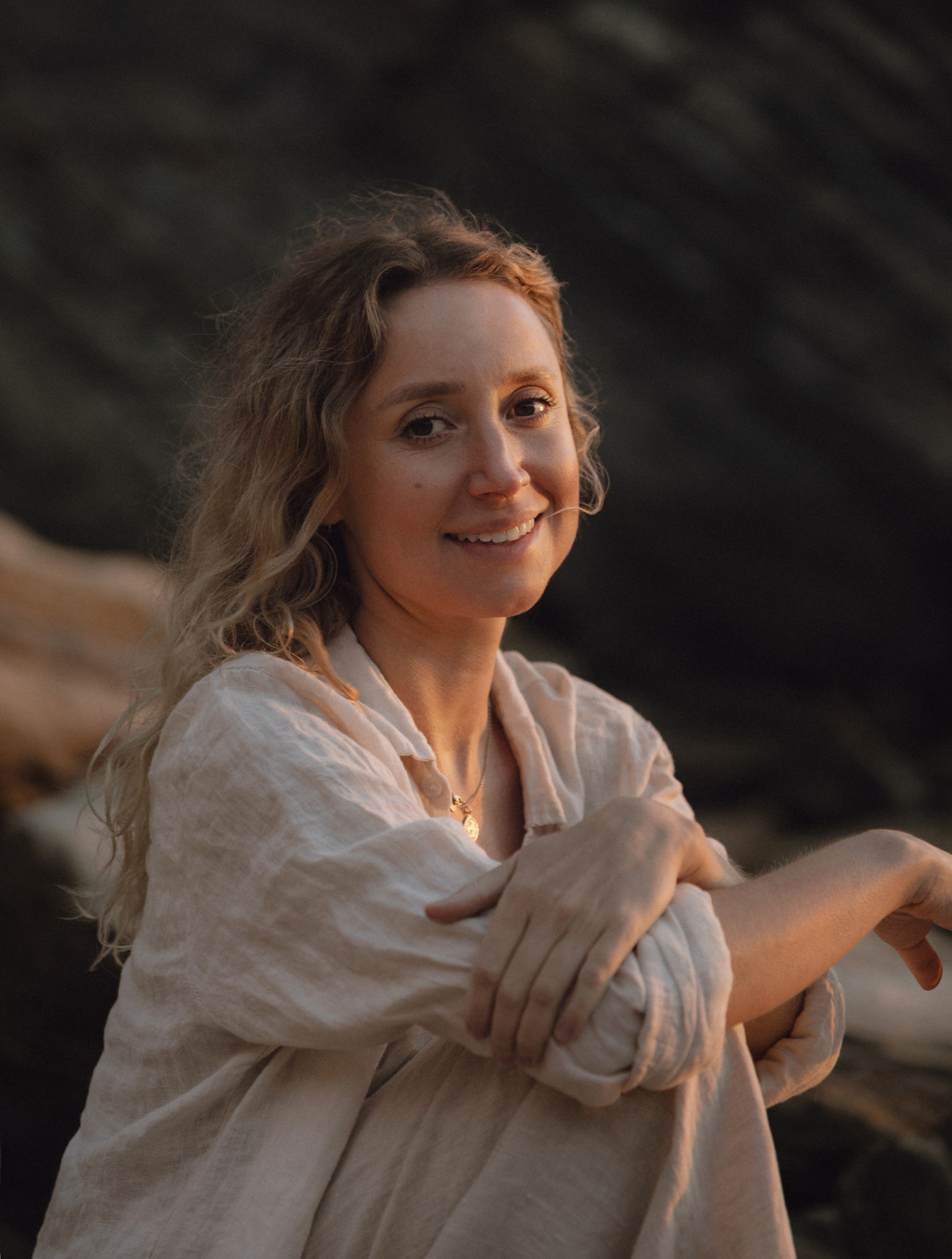 YOU EXUDE A NATURAL VITALITY THAT'S INSPIRING TO SEE... WHAT'S YOUR PHILOSOPHY ON IT? 
Doing what fulfils you, living how you choose to, and valuing the important things in life! If there's something in your life that you're not content with what can you do to change it? – This is an area I work through with my clients in our sessions.
Just to add to that… this doesn't mean striving to be happy all of the time, as this simply isn't possible and also not healthy. We all face hard times, grief and sorrow, as this is all part of our process and being human - accepting this allows us to find our way into grace. It is all part of being alive and all part of the same thing. On the other side of grief and sorrow is only love and joy.
By doing what fulfils us we can soften into and enjoy life. Therefore, becoming more accepting of these hard times when they arise, and lessening our resistance. 
I think deep down I have always wanted a simple, easy life, and this is what I have now created for myself. I live a very fulfilling life where I can concentrate on my work and the things I love. I put my energy into what I value such as my family and friends, connection to others and the world around me, being in nature, looking after all aspects of my health and wellbeing, and learning, teaching, and supporting others through my work.
Where I am now though hasn't always been the case, I spent a big part of my teenage years and 20's being very busy and partying a lot! Although I always thought I was looking after myself, this wasn't true, and actually taking care of all aspects of my health is something I have had to learn over the years through my experiences, studies and practices. A big part of this has also been just slowing down, figuring out what I truly want and enjoying the smaller things… and now I can't get enough of the simple life, hehe. 
We are all human and forever learning, unlearning, growing and expanding. 
A philosophy of mine would be to connect to yourself, find out what fulfils you, and do that! Be grateful for what you have, look after your health, be present, and enjoy living! 
WHAT TIPS AND TECHNIQUES DO YOU HAVE FOR GETTING PEOPLE TO CONNECT TO THEMSELVES AND THEIR BODIES?


1.     Firstly accept who you are and learn to love yourself (if you don't already)

2.     Slow down and breath

3.     Embodiment Practices – getting into your body, and therefore the body of the world around you – this will feel different for each person but its basically your own    
       balance and being comfortable in your own person

4.     Spending time in nature to foster a connection to the natural world and its cycles, and Grounding practices – planting your bare skin, usually your feet on the ground
        to tap into the electrical charge of the earths surface (after all, we are part of nature and what is happening outside of us is also happening within us) 

5.     Tune into how you feel, your inner knowing and your intuition, and let this guide you rather than your mind

 

These are all things that we work through in my sessions in much more detail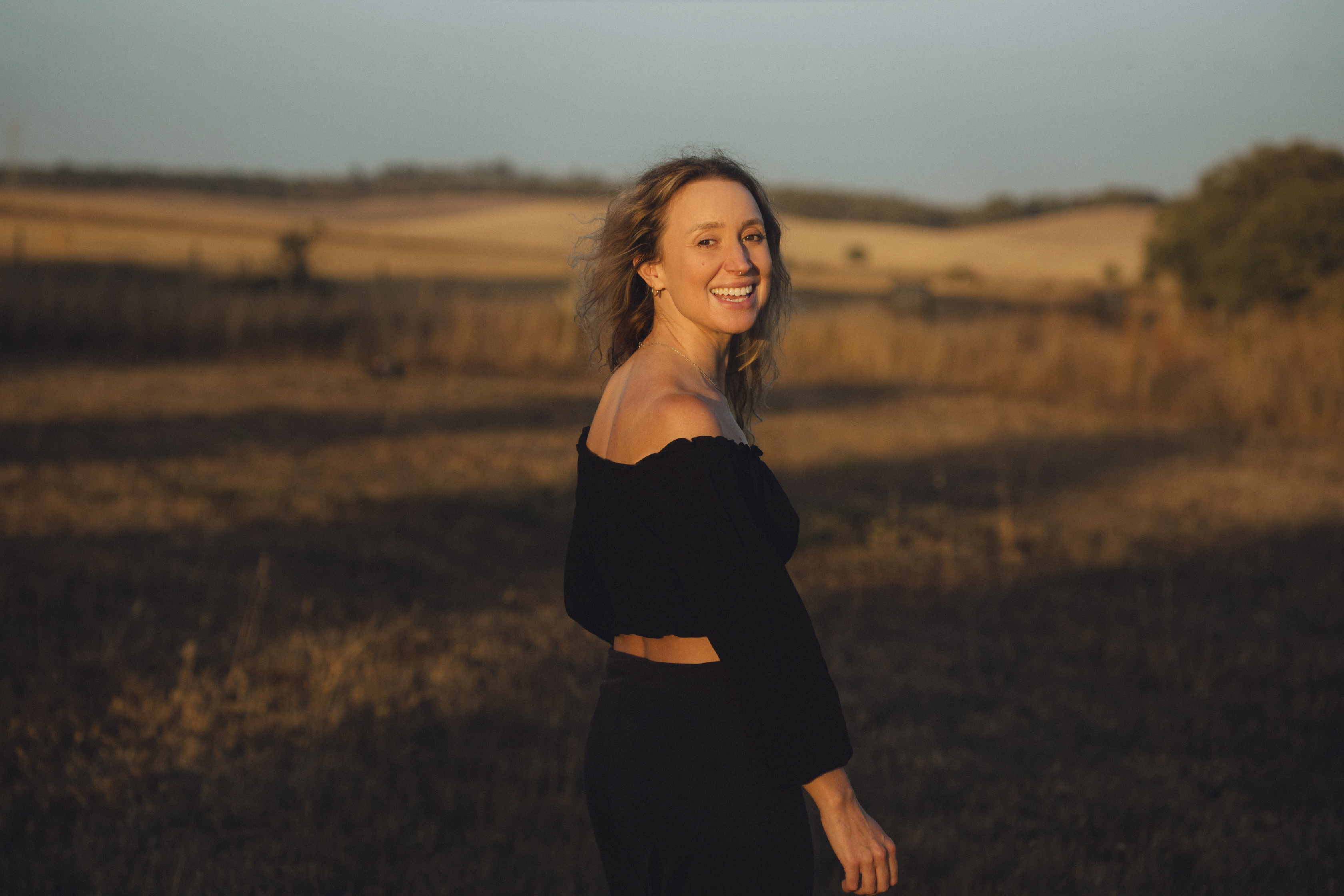 WHAT IS YOUR PERSONAL EXPERIENCE OF HOLISTIC HEALTH?


How I approach holistic health is to consider all aspects of the individual and their situation, not just one area. The aspects I consider are the physical health, the psychological health, the emotional health, and the spiritual & energetic health. We work together to get these areas in balance. My approach is rooted in the fact that no one knows your body better than you do!
I have educated myself on this thoroughly over the years through deciding to take my health and healing into my own hands…
When I was much younger I had episodes where I was prescribed antibiotics and other pharmaceutical drugs. Although they did help the situation to some extent, my issues and symptoms kept on coming back, and in some instances I was actually left feeling worse. I became aware of the limitations in western medicine and knew this couldn't be the only answer! I also experienced a period in my life where I was prescribed antidepressants, which again helped the situation to some extent but could only go so far, and I was left with unanswered questions and a yearning for a deeper understanding.
Therefore, from quite a young age I decided to take my health and healing into my own hands and really focus on my wellbeing. I did huge amounts of research and study and took various holistic and alternative health courses. I realised I could heal myself from the inside through changing my lifestyle and outlook on life, through nutrition, alternative treatments, therapy, connecting to my body, and embodiment and somatic practices. 
This is not to say that I dismiss western medicine completely! I think it can be useful and has an important part to play in certain areas regarding health in our society. My wonderful older sister has a health condition which requires support from western medicine, without which she might not be alive today. So myself (and all of those around her) are incredibly and forever grateful for this support that she receives! 
What I am saying is that western medicine is limiting, it treats the 'symptoms' and doesn't look at the root cause of the problem, it takes a restrictive approach, and it really isn't the only answer. 
Further to this, after being well for many many years and not ever having any immune problems before, I've recently been diagnosed with some immune issues, which started around 2 years ago after having covid and the covid vaccine. I now often have episodes of feeling quite physically unwell and not having any energy. As there aren't any healthy answers for this in the medical field (the only thing the doctors could do was continuously prescribe me antibiotics), I have gone back to what I have learnt previously, and I am currently healing myself from the inside and through my method of looking at the four aspects of health. I don't have any doubt that I can heal myself. For this I've really had to slow down, even more, listen to my body, and take time to rest rather than power through. Practicing what I preach! 
-       A result of this being this blog was slightly delayed in getting published, as Victoria knows ;) 
-       If you are experiencing symptoms of long-covid or vaccination injury then please reach out as this is something that needs to be spoken about more, and there are holistic approaches that can help
-       Everyone should feel in control of their own health. I am very much pro-health, pro-choice and pro-autonomy! 


Holistic health is to consider the whole picture and entirety of a person. It's also about taking control of your own wellbeing and healing from the inside, rather than relying on something externally to make you feel better. Taking a holistic approach is much more balanced and, in my opinion, healthier as it looks at the body and all other aspects of the individual in their entirety to get to the root cause of the problem and restore balance. Rather than just focusing on an isolated part, or just simply treating the 'symptoms'. 
The way I teach and provide support is to encourage people to also take their wellbeing into their own hands. This has been such a powerful and life changing tool for me and I want others to be able to do the same!
I work to empower people to be in control of their own health and happiness. Rather than me telling them what to do, they are simply provided with the tools and space to access the wisdom inside of them which will improve their wellbeing and lead to a more fulfilling life. At the end of the day no one knows your body and mind better than you do. You just need to tune in, connect and listen! 
We might do this through movement therapy and yoga, meditation, breathwork, working with the nervous system, working with the unconscious mind, intuition practices, talking therapy and behaviour change practices.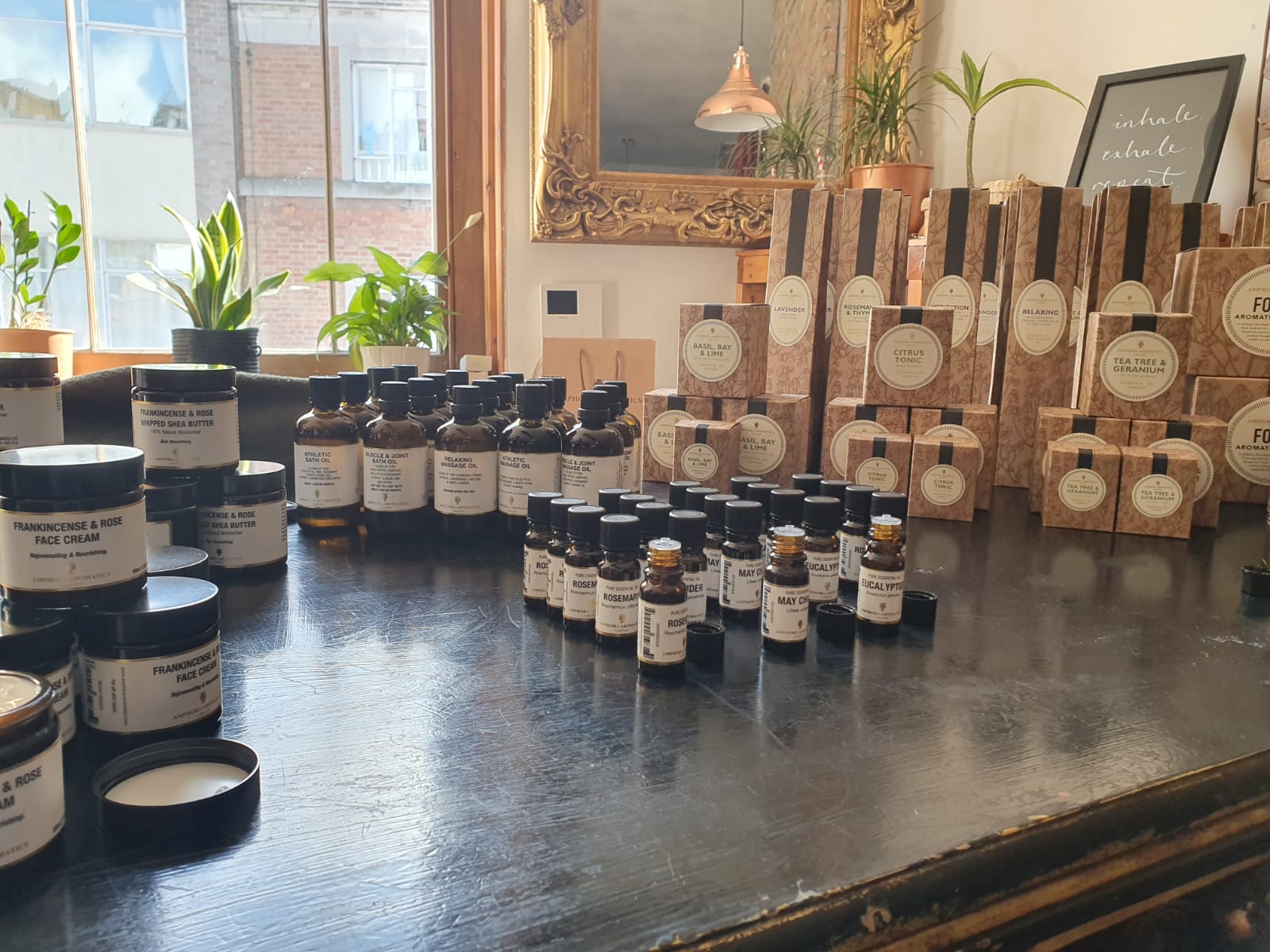 WHAT IS YOUR TAKE ON AROMATHERAPY, HOW HAVE YOU SEEN IT WORK FOR YOURSELF AND OTHERS? 


Aromatherapy is something I used on myself and in my work for many years. I believe that the senses have a huge impact on our wellbeing and healing. I once read a beautiful quote which stated that "An impression on the senses is an impression on the psyche, their passage inextricably linked… In the senses, you will journey. You will wander. And you will return." 
I have used Aromatherapy on myself and on my clients for many different things including to help shift mood, for sleep and relaxation, for igniting and energising, to clear the mind and help focus, to ease achy muscles, soothe skin, ease headaches or nausea, or for period pains and PMS.
I usually always use Aromatherapy in my massage and bodywork sessions to soften the muscles and release tension, and it also works on a more subconscious level by encouraging relaxation and calming the nervous system.
I use Aromatherapy as a tool to self-soothe which I always teach in my retreats and courses, and incorporate it into my daily self-care practices. 
WHAT ARE SOME OF YOUR FAVOURITE ESSENTIAL OILS FROM AMPHORA AROMATICS? 
I have been using Amphora Aromatics Essential Oils from the very beginning of my career. They were the first brand I started using when I qualified in holistic health, massage & bodywork in my late teens, and I still use them today! They are without a doubt my go-to oils!
It really depends on the day and my mood, but some of my favourites are…
Ho Wood as I love the earthy quality and find it so grounding. Frankincense as it has such a delicious scent and really ignites me. I love to use Marjoram and Black Pepper on my clients with tight muscles. An old favourite is Rose Geranium for its sweet, floral and comforting smell. I find Vetiver extremely emotionally balancing. And of course the classic Lavender which never fails with its many benefits and relaxing properties.  
I always carry an essential oil with me in my bag when I'm out and about for when I need an energy boost or to shift my mood!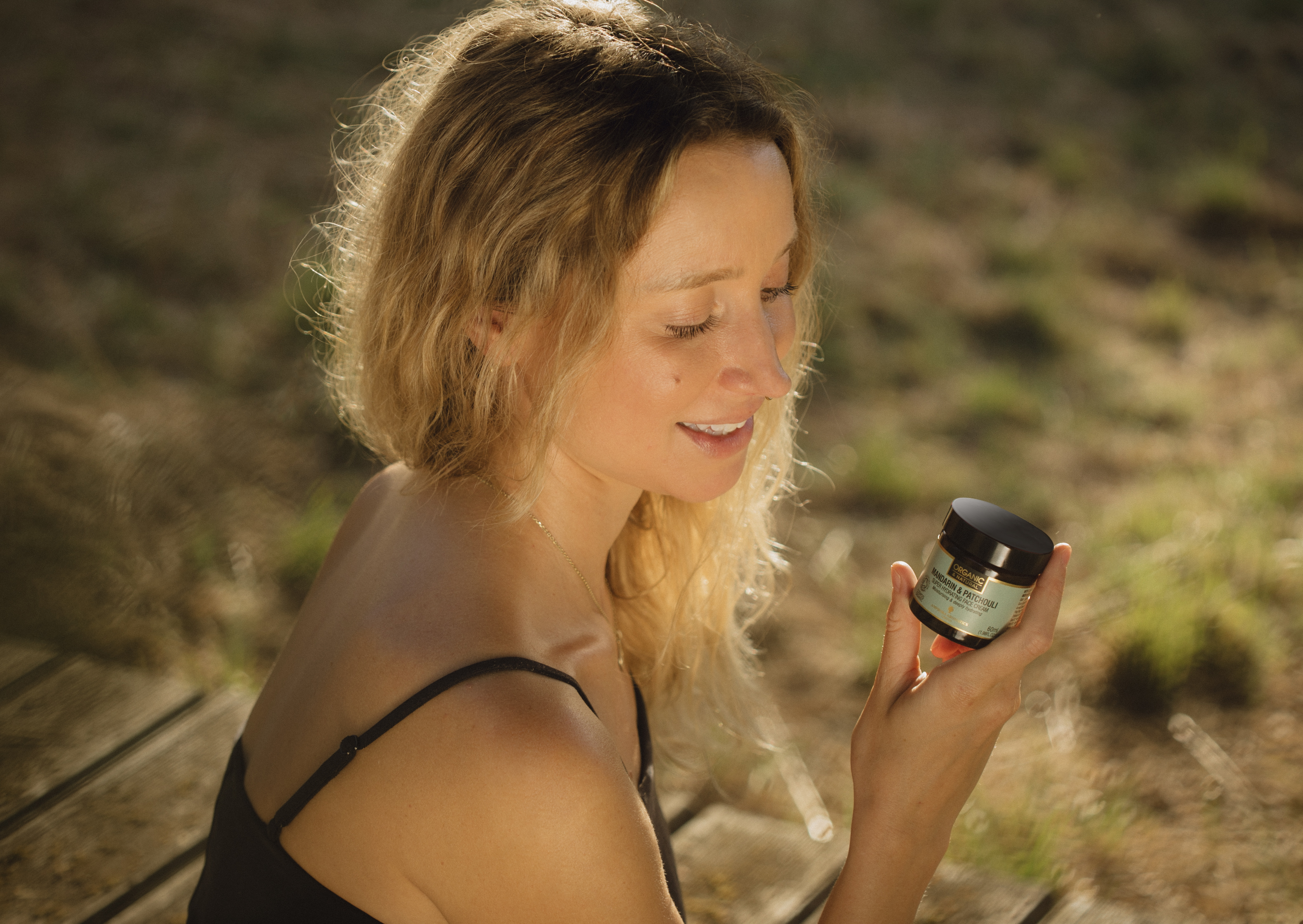 If you would like to work with Lauren, be added to her mailing list, or join her free community group on Facebook you can reach her by….
Email: This email address is being protected from spambots. You need JavaScript enabled to view it.
Instagram: lauren_garner__
https://instagram.com/lauren_garner__ 
Facebook page: Lauren Garner Intuitive Wellbeing 
https://www.facebook.com/laurengarnerintuitivewellbeing/  
New website: Coming soon! 
Mentions: 
Senses quote taken from 'The Senses, A portal' by Innermade
Photography: a mix of Laurens own photos and work by Barbora Mrazkova, and Cezary Szproch  
DISCOVER MORE OF AMPHORA AROMATICS; THE AROMATHERAPY ESSENTIALS, AND THE ORGANIC &
NATURAL RANGE.