Here at Amphora we care very deeply about supplying the best quality Essential Oils and natural products.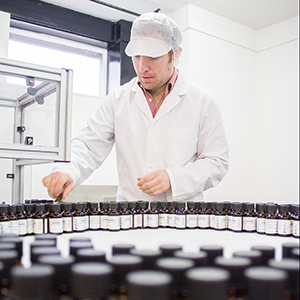 Quality Control takes a number of forms depending on the product or ingredient but it boils down to ensuring that products are consistent in their production and safe for use. That means that Essential Oils must be 100% pure and our wide range of cosmetics should conform to a definite standard of appearance, scent, usability and of course safety. Essential oils can differ in odour and appearance considerably from batch to batch, so an expert eye with a knowledge of the potential variation is essential.
Determining these requires regular consultation of UK, EU and International Legislation as well as guidelines issued by a wide range of trade associations. There are often very strict guidelines as to the amount of Essential Oil (or any concentrated natural product) that manufacturers are allowed to use in cosmetics or even therapeutic products. This can lead to changes in formulation from time to time, and at Amphora we also frequently look at ways to improve our existing stock and recipes.
At Amphora we place the safety and welfare of our customers above all else and so we adhere to all international legislation and a good many voluntary codes of practice, such as ISO 22716 (Good Manufacturing Practices for Cosmetic Products). 
Our Quality Control Process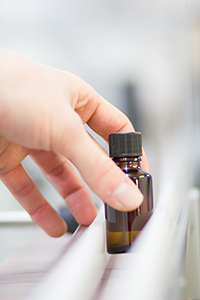 When we source an Essential Oil, either because we intend to add it to the range or are looking to improve the quality of our existing stock, we bring to bear over 50 years' experience working with Essential Oils. Our CEO Peter Carroll has been working with Essential Oils since long before the foundation of the company, and the expertise to identify essential oils by smell, sight or texture can be found at every level of the company.
Amphora Aromatics boasts a professional Aromatherapist on staff, an in-house testing laboratory and a production facility certified to cosmetic Good Manufacturing Practices in line with ISO 22716 and EC Regulation 1223/2009 on Cosmetic Products. Manufacturing in line with this legislation ensures quality control at all stages of production, from the moment a barrel enters the warehouse to the time a finished bottle, jar or sachet leaves.
Essential Oils possess a range of easily-identified physical characteristics which are taken into account first & foremost when assessing a sample from a new supplier. Most important is odour – there is a wide range of variation in aromas that oils can produce and we are highly selective when it comes to picking out the right scent. We examine as wide a range of oils as possible and all staff participate in the tests wherever possible. As a result we can also get an impression of which oils work best for a range of tastes.
All oils also have a characteristic range of colour and viscosity which we can compare to earlier batches and our collective expertise. Oils must meet these basic expectations before they can be considered of sufficiently high quality for further analysis.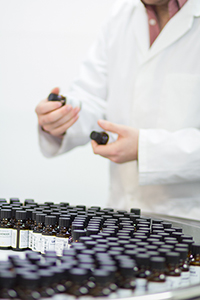 When we wish to seriously consider an Essential Oil for inclusion in our range, we send the sample to an independent laboratory to receive a full Gas Chromatography / Mass Spectrometry (GC/MS) analysis which gives us a clear idea of the purity of our Essential Oils. Every GC/MS report includes a summary of the sample's characteristics (Refractive Index, optical rotation etc.) compared to the most up-to-date accepted standard for that oil (this can range from National Pharmacopoeia listings to recent ISO Standards, for example, our Orange analysis is based on ISO 3140: 2011 (Oil of sweet orange)).
Gas Chromatography measures the rate of elution (the separation of material by washing) of each of the components of an Essential Oil to give a clear idea of the concentration of individual compounds (high limonene concentration for citrus fruit or peel oils, high linalool content for Lavender, etc). This gives us a good idea of how closely any given oil conforms to our expectations and also gives us the opportunity to determine possible sources of contamination, so we always have an external perspective on all potential suppliers.
We request that suppliers provide us with their own Certificates of Analysis which we can check against our house standards and our own testing procedures. In our in-house laboratory we test each oil for its Specific Gravity – its density relative to water. This is likely to fall within a narrow range for each type of oil (Orange Oil comes between 0.886 and 0.896 when measured at 20˚C) and deviation from this range would indicate possible adulteration or contamination. Any oil that falls outside these parameters is rejected. 
Similarly, we test for Refractive Index, or the angle of refraction of light through a substance. This depends on the composition of the oil and even small discrepancies can produce major results within the refractive index (Orange oil R.I. falls between 1.456 and 1.461when measured at 20 ˚C). In this way, we are able to track the quality of our ingredients, from the first test sample to the latest batch delivered.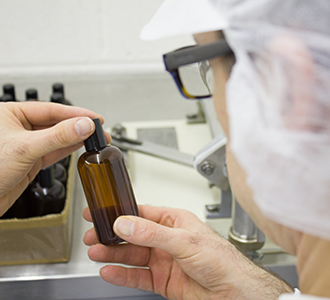 We also continuously monitor all our cosmetic products, both in bulk form and following production, with a similar range of tests conducted in our in-house lab. We ensure that our creams have the same viscosity, odour and pH and conduct peroxide checks to ensure that all the ingredients are fresh and have been kept in the correct conditions throughout the production process. This involves a full clean-down between every batch and two or more members of staff signing off on every production run.
Every finished cosmetic has a stability trial to assess its shelf life over many weeks of storage. We also commission preservative challenge tests to ensure that the preservatives we use can keep a product fresh and safe for many months after it has been opened and used. Every batch of every cosmetic is despatched to our contracted Microbiological testing lab, giving us advance warning if any batch has been infected with bacteria, mould or yeast.
Full safety assessments by qualified chemists are undertaken whenever we compose a new formulation. In other words, we do our best to account for every potential difficulty that might arise before we even send a product out of the door.
We also keep samples of every batch of every product which we produce here at Amphora, just in case we missed something, and so we can refer back to them in case of difficulty or complaint. Overall our system is comprehensive and in-depth. For this reason as well, our customers can expect to read full INCI listings on all of our products.
Many manufacturers list only the active or top-band ingredients in their products, allowing them to conceal smaller concentrations of all sorts of other substances. We don't believe in that sort of thing at Amphora – we want our customers to know what they are buying!
Some myths about Essential Oils and natural products debunked
There are a number of misconceptions regarding Essential Oils which we hear fairly frequently from prospective customers, and we thought it would be a good idea to explain our position on them.
#1: Essential Oil quality is dependent on the presence of 'X' chemical.
Essential oils, being concentrated substances distilled from plants, seeds, bark or resin, are complex chemical structures which contain many of the same compounds as the original plant matter. Most Essential Oils contain high levels of specific compounds (Lemon Essential Oil contains high quantities of Limonene, for example) but a common error is to assume that 'quality' is dependent solely on the level of these compounds present in the oil. Lemon Oil certainly should contain a high quantity of Limonene, but it should also contain a wide range of other chemicals and a high limonene content will therefore only tell you so much.
Some unscrupulous Essential Oil suppliers can 'extend' individual batches by adding artificial versions of the high-concentration chemical as a bulking agent (Lemon Oil can be cut with artificial Limonene, for example). So watch out! That high concentration of Chemical X may not be all it seems…
#2: Essential Oils have "grades" of quality (Theraputic Grade, for example).
This isn't as pervasive a myth as it used to be, but there are still manufacturers who insist on marketing their goods as "Theraputic Grade", "Certified Pure" etc. In reality there is no industry recognised certification body for the purity of Essential Oils, and these claims have been used for years purely as a marketing ploy to justify (sometimes hugely) inflated prices for the same goods as many other manufacturers sell. Discerning customers might want to look at company membership of external trade associations, or the Quality Control information on their websites (or documentation on request) as an indicator of the seriousness of their claims. 
#3: Pure Essential Oils can be taken internally
This isn't so much a myth as a serious safety concern. At Amphora we defer to qualified Aromatherapists to determine the therapeutic use of Essential Oils in all contexts, but we must strongly advise customers that ingestion of any neat Essential Oil can be a serious threat to health. All essential oils are strongly concentrated natural chemicals and while the human body can resist quite a wide range of shocks, we do not recommend you test your own resistance to what can be very dangerous substances. Please consult a qualified Aromatherapist before you use neat essential oils, even on your skin. Many essential oils are irritants and some are toxic as well – please research Essential Oils in-depth and do not simply take any companies' word when it comes to their use.