Displaying items by tag: Nail & Cuticle Care
Monday, 12 January 2015 10:56
Easy DIY Natural Nail Care - Nourishing Growth Blend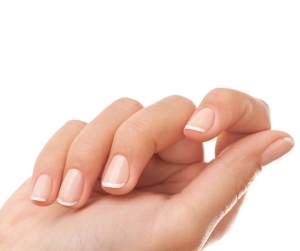 Hello again! Sophie here with my latest natural nail care blog. 

This time I'll be detailing a blend to help nourish and grow healthy, hydrated nails.
My previous blog was all about weak, brittle nails and gave you a gorgeous blend to help strengthen them. This time I've got a lovely nail growth blend that will nourish your nails and help them to grow strong and healthy.
It's very easy to get hold of nail hardeners in cheap pharmacies etc. They claim to give you long, healthy nails quickly (and most of them do), but have you ever wondered what's used in these nail care products to make our nails so hard? Well, some of them contain a substance called Formalin which is made from dissolved Formaldehyde. Prolonged use of nail hardeners containing Formalin is not recommended as it can actually corrode the nails and leave them split and damaged.  
Of course, just having hard nails does not necessarily mean you have healthy nails. If they're too hard then they can be become brittle and break. The healthiest nails are flexible.
You'll be amazed to find how easy it is to make your very own blend using only natural ingredients including pure essential oils. Natural ingredients for healthy, long and flexible nails.
First we need to consider the perfect base oils. Grapeseed Oil is a good choice – it's full of Vitamins and antioxidants that help to protect and restore nails. Jojoba Oil works well alongside the Grapeseed to provide extra nurturing, hydrating and nourishing properties.
Lavender essential oil protects and heals, Rosemary will stimulate and promote blood flow to the nail bed and Carrot Seed oil helps to maintain moisture balance.
Here's a great all-natural blend that will help nourish and protect your nails:
Ingredients:
30mls of Grapeseed Oil
10ml of Jojoba Oil
2 Drops Carrot Seed Oil
3 Drops Lavender
2 Drops Rosemary
Method:
Mix the oils together in a small dark glass bottle. Shake the blend before each use to ensure the oils are mixed well before application.
How to use:
To apply, dab a small amount of the blend on the cuticle, then in circular motions gently massage over the entire nail. For best results, give the oils as long as you can to soak into the nails before washing your hands. Bed time is perfect. 
As with all natural ingredients or blends that you're using for the first time, it's important to ensure that you won't react badly when they're applied to your skin. To do this, it's very important that you carry out a skin patch test before full application.
Simply apply a small amount to the inside of the elbow and leave for 24 hours. If irritation occurs, rinse the area well and then test each ingredient individually to work out which one(s) is causing the problem.
Simply replace this ingredient with another oil with similar properties. Please don't be put off if you do have a reaction - there will be a blend that is right for you.
Thank you for reading! My next blog will be focusing on cuticles. I've got a gorgeous cuticle balm recipe which helps to treat and prevent dry, sore cuticles. 
I'm always happy to help so please remember to send any questions or suggestions to my email address This email address is being protected from spambots. You need JavaScript enabled to view it.. If there is a particular subject or problem you'd like covered then I'd love to hear from you :)
Don't forget to check out all of our other blogs. There's a wide range of topics and problems covered with free tips, advice and recipes from the experts here at Amphora. Click here to browse through!
Wednesday, 07 January 2015 14:59
Easy DIY Natural Nail Care - Strengthen and Defend.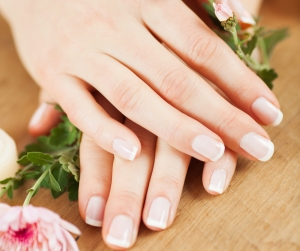 Hi all, Sophie here. Happy New Year to each and every one of you :) My latest blog is all about strengthening your nails to help keep them looking healthy. 
I hope you enjoyed my previous series of blogs on natural skincare (Click here to see all of my blogs so far.)
My next few blogs will be concentrating on natural nail care.
Beautiful, pristine nails make anyone feel good, but finding the time or money to be pampered at salons can be difficult.
Even if you opt for a home treatment, many products available on the market can contain a lot of harsh chemicals which may strip and dry out the nails causing them to split and flake.
It is especially important to look after nails in the colder weather as our nails need moisture and protection just like our skin and hair. 
One of the most common problems is weak, thin and brittle nails. This causes nails to snap and break easily, which leads to further problems with cuticles etc.
Using a naturally hydrating and strengthening treatment oil on them a few times a week can be a really quick and easy way to help strengthen and hydrate your nails, allowing them to grow and look a lot healthier.
Natural ingredients that that benefit weak nails:
Frankincense and Myrrh essential oils can help restore moisture, reducing breakage.
Argan Oil is full of Vitamin E and essential fatty acids that deeply hydrate and strengthen dry, brittle nails.
Wheatgerm Oil is naturally rich in Vitamins A, D and E and is full of Vitamins and essential fatty acids which helps to protect nails.  
Here's a lovely, easy to make cuticle oil blend which is great for nails that are already weak or as a strengthener during colder weather:
Ingredients:
30mls Argan Oil
2 drops Wheat germ Oil
2 drops Frankincense Essential Oil
2 drops Myrrh Essential Oil
Method:
Blend the oils together in a dark, glass bottle and  shake well before each use. If you have a wheat allergy and need to stay away from using wheat germ then try Coconut Oil instead. It also contains important nutrients that will help strengthen nails.
Application:
Apply 1-2 drops of the oil blend to the cuticle and gently massage over the entire nail. For best results apply the oil before bed when you know you won't be washing your hands for a few hours. This will give the oils a decent chance to get to work on your nails.
Carrying out a patch test before using the any natural blend for the first time is always important. Apply a small amount to the inside on your elbow and keep an eye on the area for the next 24 hours. If any irritation occurs, simply rinse the area well with water. You may need to test each ingredient individually to establish which one may be causing you to react to the blend.
Thank you for reading! I'll be back soon with another great blend to help you keep your nails in tip-top condition.
If you have any questions or would like some tips on any recipes or any suggestions on topics you would like me to cover then please get in touch. My email address is This email address is being protected from spambots. You need JavaScript enabled to view it.. I'm always happy to hear from you and help however I can!