Displaying items by tag: winter
Wednesday, 07 November 2018 14:29
Home Pampering Tips With Amphora.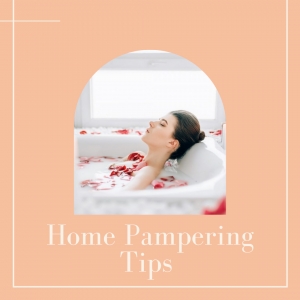 Hygge, pronounced 'hoo-guh' is a Danish word for cosiness meaning making yourself comfortable at home. It is currently all the rage in the UK what with the cold and miserable weather upon us. Whether it's making a coffee or cosing up on the sofa with loved ones, Hygge is being aware of a good moment whether it is simple or special.
So we have got a few tips for you on how to indulge in Hygge this Winter.
• Face masks
Face masks are a good way to relax – I mean, who can resist the relaxation time and skincare benefits? We stock a vast variety of natural face masks catered for your individual skin types. Face masks can help hydrate, moisturise and cleanse the skin as well as uplifting your spirits – especially during the cold weather dry skin can become a problem. Shop Ooharr face masks here and AA Skincare deep cleansing face masks here.
• Hot Baths
Most of us turn to a hot bath for its relaxation purposes as well as having a bit of 'you time' and it can really help in many ways, from soothing muscle pain to helping with skin concerns. Especially with it being cold our body becomes much stiffer and sore. It's perfect for warming yourself up and de-stressing. Why not try an Epsom salt bath with a few drops of Lavender Essential Oil?
• Candles
Candles can really have a huge impact on our relaxation process. There are many calming effects of candlelight it can reduce stress and increase self-awareness. We all know a scented candle is a great luxury but have you tried essential oil candles? Essential oil candles are a great way to enhance the room with beautiful aromas and to reap all the beneficial therapeutic properties. Bring the tranquil and restorative light of candles into your daily life. Shop essential oil candles here. 
• Socialising
The winter month can be a very busy month what with party season near and Christmas around the corner, but not all of us want to be out in this cold weather. A lovely way to relax and socialise, and a huge part of Hygge, is spending time with friends and family even if it is indoors. Pamper evenings are perfect, why not invite your friends round, apply face masks and have a good catch up. Or even snuggle up on the sofa in front of a fire or under a blanket watching a movie and sipping hot chocolate.
Thank you for taking the time to read our latest blog. We hope you manage to indulge in some Hygge soon. 

Tuesday, 20 October 2015 14:47
Autumnal Aromas in the Home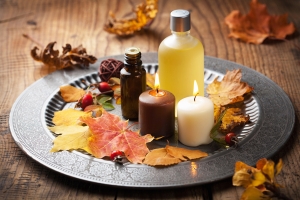 Autumnal Home Aromas
Now that the colder weather and shorter days are drawing in, this time of year is the perfect time to create a warm and comforting environment at home. Simple things such as lighting some candles, snuggling up with your duvet and enjoying a warm drink or playing some music can really change the mood and create a cosy and inviting living space to lift spirits and make Autumn a more enjoyable experience.

One of the most effective ways we can do this through the use of home aromas. The power of smell should never be underestimated and it is well known throughout history how particular fragrances can evoke strong emotional reactions. The beautiful floral aromas of oils such as Lavender can help induce deep relaxation (you can almost picture the rolling lavender fields on a warm summer's day).  The bright and cheerful aromas of the citrus oils such as Orange can really lift spirits and promote feelings of happiness and joy. Inhale the beautifully sweet aroma and picture yourself walking through a beautiful citrus orchard in the south of Spain.

We can really use this to our advantage and make the most of 'happy' scents or aromas we may associate with good memories on a personal level. A certain scent may remind us of a holiday or of a special person. The olfactory system (the part of the brain which receives information about odours) has an incredibly intimate relationship with the areas of the brain that deal with emotion. This is why aroma can have such a profound effect on our mood, our memory and our emotional wellbeing.
Here's a few tips on how to use warming and seasonal scents to align our mood and senses with our environment and help promote feelings of warmth and security.
Home Aromas

A simple yet effective way to fragrance your home is using scented candles. Lighting a candle on a cold, dark winters evening can be a lovely way to create a warm and cosy atmosphere in the home.
Here at Amphora we've recently relaunched our new range of all-natural aromatherapy candles made from essential oils and sustainably sourced plant wax.   Beautifully presented, they make the perfect gift as well as a great addition to your own home.
From festive and fruity Orange & Clove to subtle and refreshing Citrus Tonic, there are more than twenty different all-natural fragrances to choose from, but some of the warming and seasonal candles which are especially suited to this time include:
Cinnamon – stimulating and energizing. The perfect scent to warm the senses.

Limeleaf and Ginger – zesty and spicy; a unique combination of energizing scents.
Juniper and Pine – fresh and fragrant; to help revive and restore.
Bergamot – sweet and fruity to help lift spirits during the dark evenings.
Orange and Clove – sweet and spicy; to get you in the festive mood.
Natural Aroma Reed Diffusers

One of the most convenient ways to scent your home safely (no naked flames to worry about). Natural aroma reed diffusers are becoming an ever more popular way of filling your home with your favourite scents. Long-lasting and subtly fragrant, our natural reed diffusers absorb essential oil blends through natural reeds, creating a gorgeous ambience.  And, because they don't require a candle or plug in, they are safe to use and leave unattended (an ideal option for students living in halls).
We have a great selection here at Amphora; all of which contain a gorgeous blend of natural essential oils to help lift your spirits and make your home smell wonderful. Chose from scents such as calming Lavender, energizing Basil, Bay and Lime or refreshing Citrus Tonic.

Traditional Oil Burners

For the more traditional option, you can enjoy the great benefits of essential oils by diffusing them through either a candle lit burner or an electric fragrancer.
Simply add water and a few drops of essential oil to the bowl, light the candle and enjoy the aromas as they are slowly released (but make sure you never leave it unattended). 
It's a great way to get creative with different blends and you can tailor the aroma to suit your mood.
Here are just a few ideas:

Warming blend – 3 drops Orange, 2 Cinnamon and 1 Ginger 
Uplifting blend – 3 drops Grapefruit, 2 Lemongrass, 1 Rosemary
Relaxing blend – 3 drops Lavender 2 Sandalwood Amyris and 1 Ylang Ylang.
Here are just a few ideas of how to make the most of fragrance in your home. Thank you for taking the time to read this and we hope you'll stay tuned for more free tips and advice from the Amphora team.